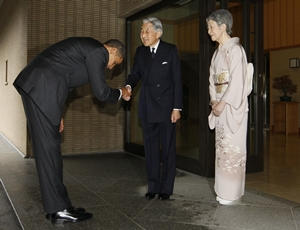 President Obama created a new presidential precedent when he bowed to the Japanese Emperor Akihito and Empress Michiko Saturday.
No president of the United States in the more than 230 years since the country was founded in 1776 had ever bowed to a member of royalty. That was until Barack Obama's presidency.
In April, President Obama bowed to the Saudi king during the G-20 meeting. At the time, Obama's deferential bow was somewhat obscured, and the White House insisted that the president simply had leaned forward to shake the king's hand.
But the president's recent demonstration of royal deference to the Japanese emperor and empress suggests his earlier action was no aberration.
What should we make of this? Is it trivial to worry about what on its face could easily be interpreted as nothing more than a polite gesture by our president to respect the culture of a country?
America was founded on republican virtues — small "r," that is. Like the French Republic, our nation does not recognize royalty or social rank, especially from officials of the republic.
The conduct of our president when he deals with foreign leaders is a serious matter. After all, he represents the American people and our Constitution.
Indeed, when President Obama bows before a foreign leader, the whole country bows with him.
It is difficult to grasp what President Obama's motives are for bowing to foreign royalty (it would be nice if a reporter asked his press secretary Robert Gibbs why he does it).
But Obama's motives do not really matter when we consider his behavior.
What matters is how the rest of the world will interpret his actions. When it comes to bowing before foreign leaders, there is a fine line between showing politeness and servility, between respect and weakness
Continued HERE